Today's a normal day: I'm sitting in the library, at my normal table, people watching because that's how I draw my inspiration, and it may seem counter intuitive, but sometimes watching people and getting caught up in the world I imagine for them is the only way I can get my homework done.
Today's a normal day. Except, it's not.
4 years ago, almost to the day, I tried to kill myself. I can remember the time and the place. I can remember it all. And now, I'm sitting in my Campus library, in my normal spot, wondering how on earth I made it this far.
How did I get here?
What am I doing here?
And sometimes I find myself wondering if people make up stories about me like I do them. Do they know who I am? Do they know what I've been through? If they do, are they judging me for it?
You see, yesterday, I posted this picture of one of my Facebook statuses on Twitter: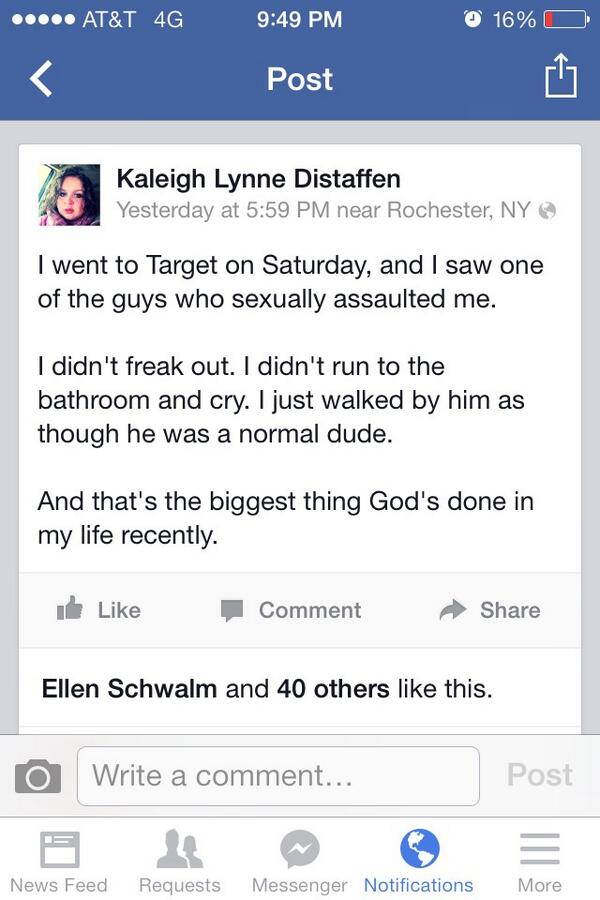 Which is kind of a big deal, because my Facebook friends are people I know, and only people I know can see it. On Twitter, however, that is not the case. It got retweeted by one of my friends, and people who I don't know favorited it.
I think it's a good thing, because maybe what I've been through can help them even if I haven't met them?
But are they judging me? Because they don't know me, and it's easy to form judgments about people you don't know.
Because yes, I've been sexually assaulted, which has led to me living with depression, attempting suicide, and battling anorexia. And it would be easy for people to judge me.
But what I've been through doesn't define me.
I am so much more than my past.
I'm a Christian whose faith in God has been strengthened by what I've been through.
I'm a Survivor who has used what I've been through to help others. When I went to Guatemala, I was able to lead a young teenage girl to Christ because I was brave enough to share my story.
I'm a writer and a poet who is writing a book, because I believe in the power of words.
Today is a normal day: I'm sitting at my normal table in the library, studying grammar with my friends, people watching, and making up stories about their lives.
Today is a normal day. 4 years ago, I tried to kill myself. I've been waiting for my life to begin, and it's already begun.
I was living my life when I went to Guatemala, climbed up to the highest floor of a mall parking garage, looked down, and didn't want to jump.
I was living my life when I wanted to jump to end my life.
I was living my life when I tried to hide my past.
I live my life every day despite how numb I sometimes feel inside, and despite my heart being ripped out of my body through my throat whenever someone says, "You have no reason to be depressed."
This pain I feel is real, and despite choosing to live after deciding to die, it's present in my life right now.
So, I'm living my life every day, even though depression sometimes makes my life kind of gray.
Each day is a new shade of gray. 50 shades of gray: depression edition.
Today is a normal day even though big things have happened in my life recently. I've found healing and hope and love. The scar on my wrist reminds me of where I've been.
Every day, depression threatens to take over my life, because depression doesn't care that I'm a white teenage girl who lives with her parents, who can afford to go to college. I guess that makes me average.
I just want to be normal. That's why today is a normal day, despite what happened 4 years ago.